Here are see some pictures of our Chance! On an escape from the hospital for the weekend and one of him sleeping so soundly at the hospital. He doesn't look like the very sick little boy that he is, but then if you look again???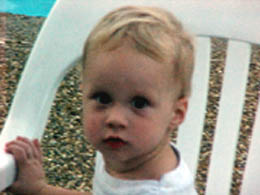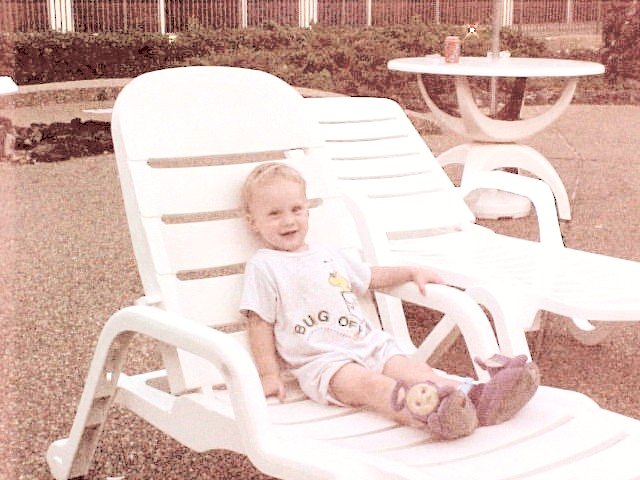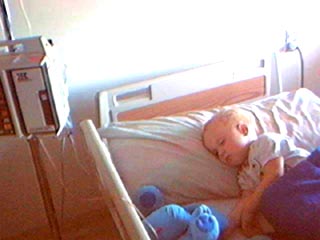 Chance has gone back into remission now (August 12) and is having his bone marrow tested as I write this. Time is going very quickly and very slowly at the same time.
This is the hardest page for me to do, simply because I do have to be bold and open my heart wide and show my pain and fear to the world and again ask for prayers and perhaps more?

I have procrastinated on this page for more than a week, just ask some of my online/offline friends! I have sat facing the screen blankly, I have traveled to others sites to put off humbling myself, and then I remind myself what it's all about! So here I am, showing you the fear and need of me to all of you out there. Please take a moment or two to visit some of the sites below, that will in one way or another help make Chance and his family a little more less stressed on the financial end. Look into your hearts and do what is right for you, but please remember there is no cost involved to you, unless you want to do so directly, unless you buy something. But then if you are like me, you love to shop! But mostly just some of your time and heartfelt desire to help a little boy that has a family that is going thru frustrations, fear and looking to the unknown with the life of their precious CHANCE!

A lady in the sisterhood of LOTH sent me this story a few days ago, I had heard it before and I am sure that you might have, nonetheless,I hope you enjoy the story. I sometimes forget where my faith lies.
SHAKE IT OFF

A parable is told of a farmer who owned an old mule. The mule fell into the farmer's well. The farmer heard the mule braying - or whatever mules do when they fall into wells. After carefully assessing the situation, the farmer sympathized with the mule but decided that neither the mule nor the well was worth the trouble of saving. Instead, he called his neighbors together, told them what happened, and enlisted them to help haul dirt to bury the old mule in the well and put him out of his misery. Initially, the old mule was hysterical! But as the farmer and his neighbors continued shoveling and the dirt hit his back, a thought struck him. It suddenly dawned on him that every time a shovel load of dirt landed on his back, he should shake it off and step up! This he did, blow after blow. "Shake it off and step up... shake it off and step up... shake it off and step up!" he repeated to encourage himself. No matter how painful the blows or distressing the situation seemed, the old mule fought panic and just kept right on shaking it off and stepping up. You're right! It wasn't long before the old mule, battered and exhausted, stepped triumphantly over the wall of that well! What seemed like it would bury him actually blessed him - all because of the manner in which he handled his adversity! Author Unknown



THIS IS SO TRUE!




I just have to remember MY faith and trust in My higher power that what will be will be!




Please check out some of the sites below. There are a lot of links that I have become affiliated with. All proceeds are to go with helping Chance and his parents with the weeks and months that are ahead. They have no insurance as I have mentioned before. There are all in retail mostly, and contribute in various ways with their individual programs. At some sites you can even donate your free rewards to Chance..if you would like, or perhaps one of the sites will save $$ for you. And possibly make your life both online and offline a little easier! Search your heart with what is right for you PLEASE!



twisted gifts (all occasion gifts)
Commission Junction
fingerprint America
Great $$ Value!
american greetings
Priceline.com Everyone's talking!

This card is way to cool, go check out their advantages! For the right individuals this is perfect, plus check out the concierge..onclick shopping..I like that idea!! Plus, if you were to sign up..Chance's life will be a little easier..Even hospital food has a price tag! I'm gonna sign up!


Would you take a SURVEY?
This is my favorite! As everyone gets rewarded!How dash Savings Work: Shop as you normally would from over 100 of the best retailers, and earn cash back from dash on every purchase (up to 25%). You can request a dash rewards check when your account balance reaches $5. You can then donate your savings to charity, in this case CHANCE! Which would be great!

Join up! (You can always remove yourself from any of these places that are helping Chance and his family!) Savings to be found and you'll feel so good about how you are actually helping with Chance's life!

Chance has a gift for you!! He wants to thank everyone from the bottom of his heart for the spirit of faith that you all have shown while you have been here. We all know that he isn't an isolated case but so far he HAS been the youngest. In fact he has evem saved a life through research. And that is a great miracle! This gift was generously donated, please take the Angel home with you and let it guard your site with bright rainbows and good fortune of the heart!!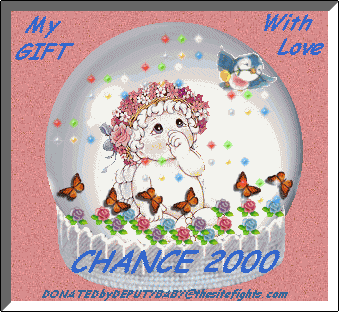 We hope that you have learned something here. We have. We've learned a lot and will continue to do so. Thinking about putting up an update mail list? What do you think??


Take a chance on Chance and keep on believing and Keep THE FAITH! Godspeed!




Free counters provided by Honesty.com.

Created for Guru (Chance Kyle)
(They teach us don't they?)
by "Mom-Mom" mistamar2u
Updated August 30, 2000
(c)All Rights Reserved